Exclusive Product
The distinctive design can always stands out from the crowd in a competitive market and highlight your enterprise culture.
Increase customer loyalty
A unique customization offers a huge advantage to any business which highly increases customer loyalty.
Marketing benefits
A characteristic product would last longer in the market and you will have a stronger ability to dominate the market.
TouchDisplays has been providing OEM/ODM services with the most flexible customization to the business requirements of customers worldwide since 2009.
Custom products cover applications such as Casino, Education, Retail, Advertising, Healthcare, Entertainment, Office and other industries.
Nowadays, our customized products cover several countries in Europe, Asia, North and South America.
We can provide in-depth expertise on designing, manufacturing and quality control to your project and produce the most reliable products.

From idea to delivery, we handle any design that you may need. To make it possible we prepared an over 10000㎡ factory to handle any custom project. TouchDisplays has 16 production lines, including 1 Paint spraying production line for Customized Products. Professional Equipment: Automatic Paint spraying equipment (2 Units). Spraying range 900mm - 3000mm. Accurate to 0.05mm, and support 360-degree spraying mode, no dead angle. The use of the high-precision CNC machine tool makes the product perfect and stylish. More professional equipment is provided for any of your project and different needs.
To make your product perfect, A variety of testing equipment can be used to test the various components of the product. eg: High-low temperature test device, Oscilloscope, AIO optical detector..etc. TouchDisplays also works with CE, FCC, ROHS, and various other international certifications. Our factory complies with ISO9001/ISO14001.
ODM PROJECT FLOWCHART VIEW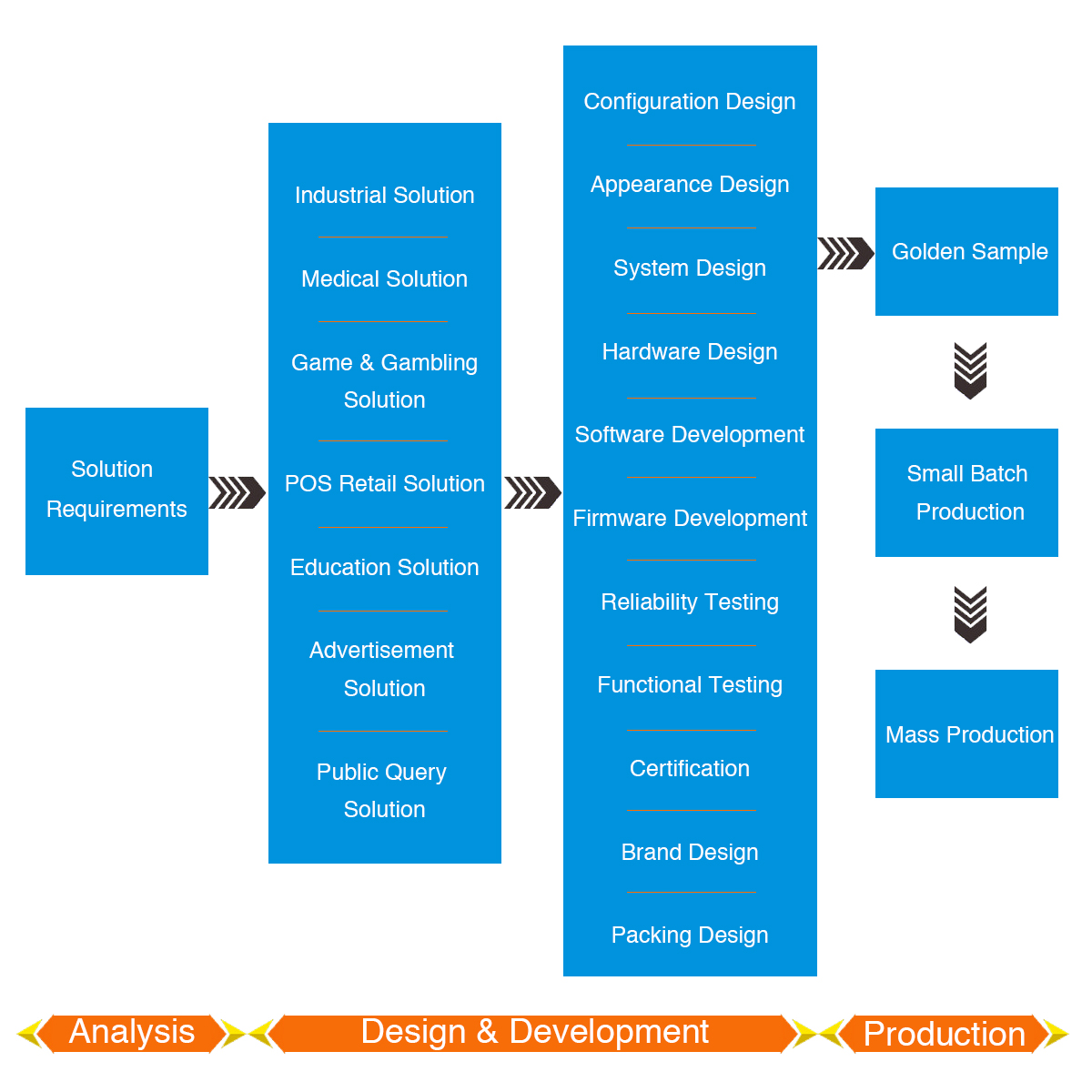 Whether it is about circuit board, industrial design, bios and firmware customization, we are able to modify our current products or redesign a brand new product, to fit specific standards and accept self-labeling.
Customers simply present their ideas and we will make them come true. From sketching, 3D modeling, crafting of samples and sample optimization, to product fully meeting customer's requests, the whole process would be completed by our engineers.