Bopa e elegant Experience Brand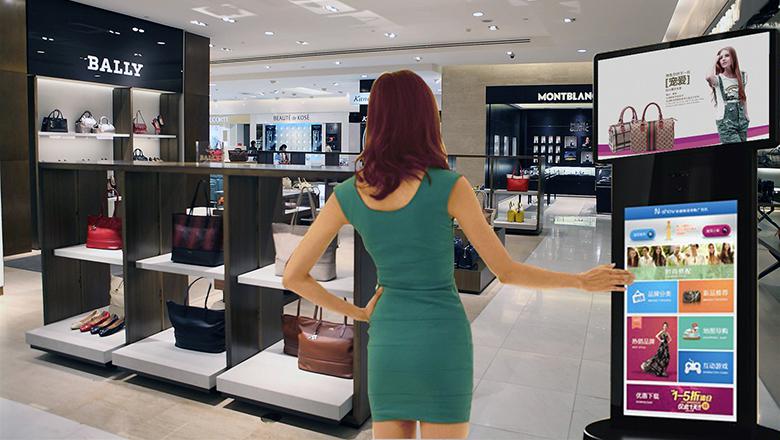 Interactive Digital Signage (IDS) displays help customers increase marketing effectiveness and return on investments
and take their marketing messages forward.
Create interactive brand experiences to attract your customers and then engage them with interactive content.
IDS displays to deliver the personalized information they need and make them brand-advocates.
◆ kenyelletsa lihlahisoa tse ncha
◆ Etsa liketsahalo ea moo / matšolo
◆ hlahisa le diselefounu tsa bophelo boiphihlelo
◆ mananeo a fana botšepehi le litaba tse ka hare
Thusa theko moreki liqeto lebenkeleng hao
Retailers today are facing competition from the thousands of online shopping sites. IDS displays can create new interactive
shopping experiences for customers to address and embrace this trend.
◆ hohela le ho kopanela bareki
◆ Ho Fana ka e "sa feleng raka, athe" le ka botebo, ka tsela e lumellanang sehlahisoa tlhahisoleseding e mabapi le ya tlhokeho
◆ thusa Personalized mananeo a tsa mebaraka ka nako ya bobeli phaello le pabatsong
Hokela "litene" le "clicks"
Retailers today are confronting the impact of internet marketing and "show rooming". A new dynamic and interactive medium
is helping make inroads to address and embrace this trend.
◆ Personalized mebaraka ka nako ya bobeli phaello le pabatsong
◆ seamless ikopanya le tsa mebaraka, online
◆ Online ntaela ho tsoa lintho tse setokong